If you are having problems with Chrome opening flash for Farm Town try the following to see which one fits your problem. These instructions are from Google Chrome Help:
Adobe Flash isn't working
If Adobe Flash isn't working or you see the following error messages, try the troubleshooting steps below.
Adobe Flash has been blocked because it is out of date
Couldn't load plugin
The following plugins were blocked on this page
If you're using a mobile device, Flash won't work on Chrome.
Step 1: Turn on Adobe Flash Player
1. Top right of your browser at the end of the address bar is 3 dots. Hover your mouse over it and it will say "Customise and control Google Chrome"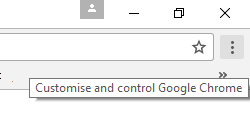 2. Click on the 3 dots and scroll down the list that appears and click on
"Settings"
3. In the page that loads, scroll down to
"+ Show advanced settings"
and click on it.
4. Scroll down to the
"Privacy"
heading and click on
"Content Settings".
5. A box will open called
"Content Settings"
.
6. Scroll down to the section called
"Flash"
. You need to put a check mark in the box that says
"Allow sites to run Flash"
OR
"Ask first before allowing sites to run Flash (recommended)".
Step 2: Update Adobe Flash Player
On your computer, open Chrome.
In the address bar at the top, enter chrome://components and press Enter.
Under "Adobe Flash Player," click Check for update.
Go back to the page with the Flash content. If it doesn't load automatically, at the top left, click Reload.
Step 3: Make sure Chrome is up-to-date
On your computer, open Chrome.
At the top right, click More .
Click Update Google Chrome. If you don't see this button, you're on the latest version.
Click Relaunch.
Having problems updating Chrome? Learn how to
fix Chrome update problems
.
Step 4: Install Flash Player from Adobe's website
On your computer, open Chrome.
Under "Step 1," select your computer's operating system.
Under "Step 2," choose the option that lists "PPAPI."
Click Download now, and follow the steps to install Adobe Flash Player.