How do I post a picture for the Contest?
1.
Go to your farm and show EVERYTHING in your game settings. This means you have to put a check mark to ALL options (Show ... ) in your "Preferences" before taking your photo.
If you have just finished designing, reload your game in case anything was hidden by accident. Check your farm and makes sure everything is showing correctly especially animals.
Click on your yellow tool box, then click on the camera icon.
2.
You must do the following items BEFORE you click "Next"
Select "Farm" rather than "Window", to show the entire farm.
Then choose Small size, never Medium or Large as they are too big for the forum.
You can also select the Background, green or white.
After that, just click on "Next".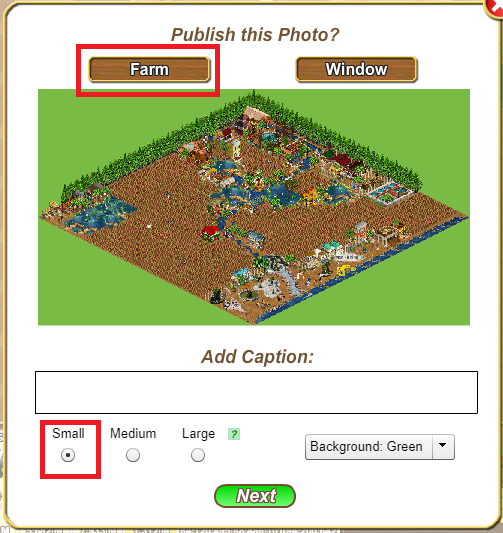 The picture is automatically sent to your Facebook Timeline.
3.
Go to your Facebook Profile and look for your photo.
4.
IMPORTANT: Check the privacy of the photo!
It must be set to "
Public
" or we will not be able to see it on the forum. To check the privacy, look above the photo, under your name is a date or time. To the right of that date/time is an icon.

It should be a round world, if it looks like an outline of a profile or a padlock, then it is not set to "Public" and you must change it.
To change it click on the icon and set it to "Public".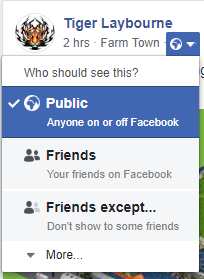 5.
You then need to click on the photo you would like to submit into the contest to view the larger image of it.
6.
Once you've done that,
"Right-click"
your mouse
on the photo
and choose:
For Google Chrome: "Copy image address"
For Firefox: "Copy image location"
For Internet Explorer: "Copy"
For Opera: "Copy image address"
For Safari: "Copy image address"
7.
Come back to the Contest thread.
Click on
Then click on the "Insert Image" icon at the top of your post, (yellow square with grayish mountains or hills on it).
A small box will open.

First DELETE the "http://" that is shown in there.
THEN "Right click" your mouse in the box and select "Paste".

Click OK. When you have done that click your mouse after
the end of IMG] then click enter on your keyboard.
8.
You then need to type in the posting box the
name of your farm
and the
farm number
and any description you wish to add about your design. When you have done that click enter on your keyboard.
9.
Next you need to add your farm link to your post. It must be the link to the farm you are entering into the contest. If you don't know how to get your farm link, please see the following post >>
http://r1.slashkey.com/forum/showthread.php?t=616838
Once you have your farm link "
Right click
" your mouse in the posting box and choose "
Paste
".
Your post should then look similar to this BEFORE you submit it. The following picture shows a picture link, farm name and number (description, if you added one) and farm link.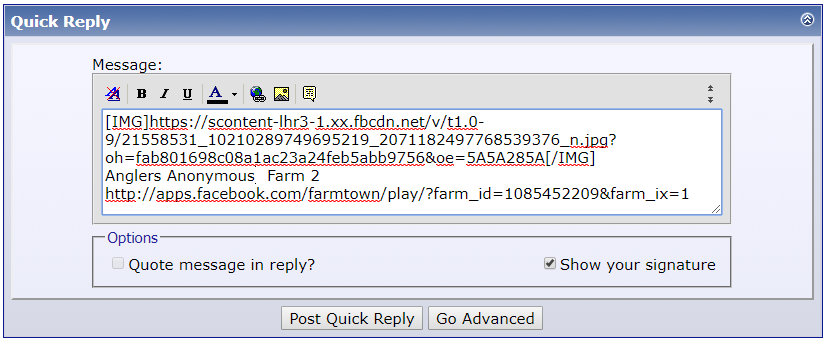 10.
If you would like to view how your picture and post will appear within your post select the "
Go Advanced
" or "
Preview Post
" option included in the bottom of your post.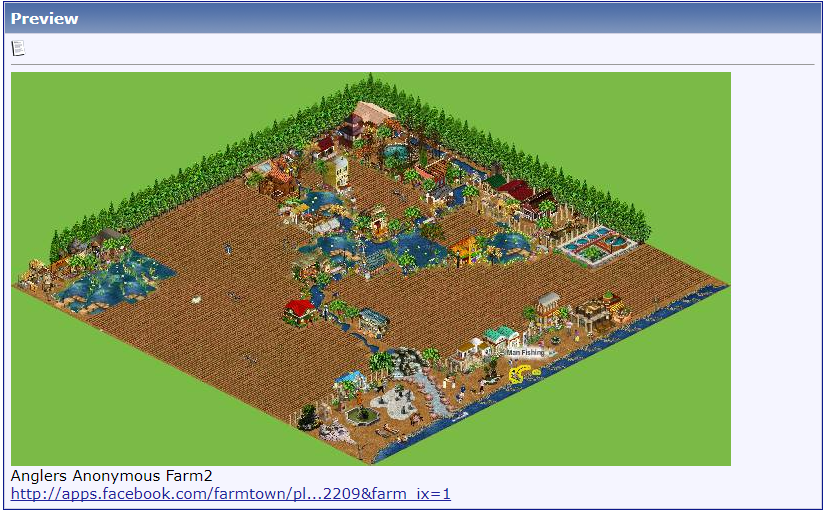 11
. When you are happy with how you post looks, click "
Submit Reply
" or "
Post Quick Reply
".
If you need help with posting your entry please post in
Contest Help