A new option available to all Farmtown players is the ability to sell and buy product from each other. The Buyer and Seller do not need to be friends, neighbors or buddies and all transactions can take place anywhere within Farmtown.
1. To initiate a transaction
, click on the Buyer's avatar and select 'sell products to'.

2. The Seller
now has a few selling options to complete the sale offer.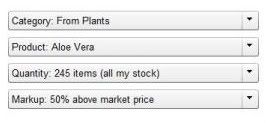 a. Category: choose whether you would like to sell product harvested from Plants, Animals, Fish or Flowers.
b. Product: choose the specific item you would like to sell.
c. Quantity: choose how much of the chosen product you would like to sell
d. Mark Up : choose your asking price for your product
Asking price options:
- 10% below market price: if the Seller wants to give the Buyer a discount at his own expense
- At market price: this will be the same as selling the products at the market
- 10-50% above market price: in this case the seller is making a profit
*NOTE TO SELLERS*
Only primary products are available for sale to other players. Meaning, product that has been harvested directly from crops, trees, animals, fish and flowers.
3. The Buyer
will now receive a menu giving them the option to review the offer or decline the offer.

If the Buyer reviews the offer and clicks the green check mark the offer will be finalized and the Seller will be given the option to make further offers to the buyer. If the Buyer declines the offer, the Seller will be given the option to renegotiate the terms of that same offer.

*NOTE TO BUYERS*
Every user can purchase up to 1500 products from other users every 12 hours. Whereas the Seller has no limit in the amount he or she can sell.
You can keep increasing that limit based on these rules:
Best Diversification Rank


Between 2000 and 5000, trading limit increased by 1000 units
Between 5000 and 10000, trading limit increased by 2000 units
Between 10000 and 30000, trading limit increased by 3000 units
Between 30000 and 60000, trading limit increased by 4000 units
0ver 60000, trading limit increased by 5000 units



Based on the amount of business clothes you own. There are now 3 business clothes available in your Avatar Editor 'Clothes' section. For each business cloth you own your limit is increased by 2000 units, meaning, if you own the 3 business clothes your limit will be increased by 6000 units.
4. The final price
that the Seller and the Buyer see may be different. The Buyer is always paying the price for a medium box, even if the Seller is selling a combination of large and medium boxes. The difference will be compensated by the Mayor.
Thanks to amberdh for creating this post.