Farm Size Upgrade Info
Each time you get an upgrade it adds 2 rows ... so the starting size 12x12 upgrades to 14x14 which adds 2 rows to the bottom and right, then a 14x14 upgrades to 16x16 which adds 2 more rows to the bottom and right, and so forth. You do not lose any trees, crops, etc on your farm when you upgrade.
Each upgrade for the particular farm must be bought in order. You can not skip sizes. Upgrades start at level 15 and open up every 2 levels after that. The price starts at 20,000 and increases as the farms get bigger. As you buy each upgrade,
the previous one will disappear
and no longer be an option which can be confusing for a lot of people.
Costs of land expansions can be found in
Chapter 16:
Land Upgrades of the Game Guide
As an example, If you were already at level 19, and have never upgraded, only the 1st upgrade will show unlocked until you purchase it,
you have to reload FarmTown
and go back into the real estate office then the next one will show unlocked, etc. You have to buy each one before the next one will unlock even if you have reached the level it will unlock at.
You could theoretically buy all 3 upgrades at one time if you had enough coins or FC, which in this example would cost 75,000 to do 3 upgrades, which would give you 18x18.
Note: To get to the real estate office, click on 'Map' in the lower right corner of your game screen.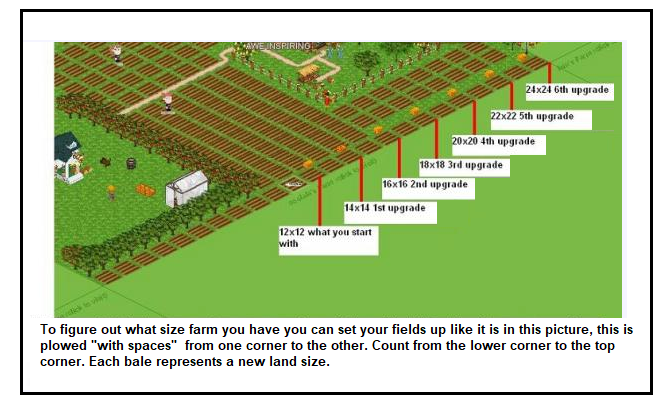 Farm size using remove spaces between fields...