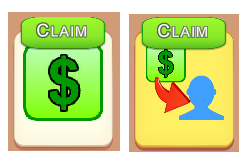 Earn Farm Cash and Sending Farm Cash Rewards
These goals are seasonal, meaning unlike some other goals you have all season to complete the goals and claim any Farm Cash Reward earned.
Farm Cash can be earned by completing enough daily/seasonal goals to earn points required to claim the reward.
There can be A Farm Cash Goal in the Free section and another you can earn in the Premium Goals Section when buying the Farm Pass.
**** You must claim any Farm Cash before the season ends!! ****
You will see these Goals in the Rewards section of the Farm Pass.
They will not always require the same amount of points each season.
The brown bar above the Reward with numbers is a guide to how many points you need before you can claim it.
There is a time showing on the Farm Pass Icon top left of your game screen.
It starts with days showing and then counts DOWN. On the last day it will show you hours and minutes.
Keep an eye on that Time so you claim your Rewards before the season ends!!!
Claim Farm Cash:

Requires you to complete enough goals to earn the points need to claim Farm Cash. Once you have earned enough points, click on the Farm Cash picture to claim your reward. You will see a brief animation and your Farm Cash will be added to your account.
One Farm Cash can be earned in the Free section!
Another Two Farm Cash can be earned when buying the Farm Pass!
Sending 1 Farm Cash to up to 5 Top Helpers:
- only available when buying Farm Pass.
You can not pick who you can send them to. The game decides that for you.
They can not have already received a total of 3 Farm Cash from other friends.
One Farm Cash will be sent to 5 of your friends that have been helping you with at least two different features of the game, for example things like working your facilities, sending you ingredients, bonuses, loading your ship when it's at their port. Sending gifts does NOT count towards this.
When you click on the reward you will be able to see the First name and profile pictures of who that reward is going to.
In this example we have removed the profile pictures for privacy.
The only time you should see Unknown instead of a name and the picture missing as would be if there was a problem with the browser or the data from Facebook about who your friends are getting to the game.



Click on Send Farm Cash and the Farm Cash will be sent.


If you send it while they are playing Farm Town, they may need to reload the game before being able to collect.

They will be able to claim it when they open the Farm Pass and they will be able to see who sent it.

In the Collect Farm Cash Gifts window, there is also a notepad icon for each farmer which you can click on the say Thanks!